PowerA Nintendo Switch Pokemon Wired Gaming Controller Mewtwo Pokeball Design
Product SKU : CTR001-036
Refurbished gaming controller
Officially licensed for Nintendo
3.5 mm headset jack
Fast Delivery
6 Months Warranty
---
---
Reasons to buy Nintendo gaming controller:
Bring your favorite Pokémon to life on your Nintendo Switch with this PowerA wired controller featuring a Pokéball design with Mewtwo! Enjoy accurate and precise control while playing your favorite games with this comfortable and ergonomic controller. Optimized for gaming performance, this controller will take your gameplay to the next level.     
Refurbished gaming controller
Officially licensed for Nintendo
3.5 mm headset jack
Fast Delivery
6 Months Warranty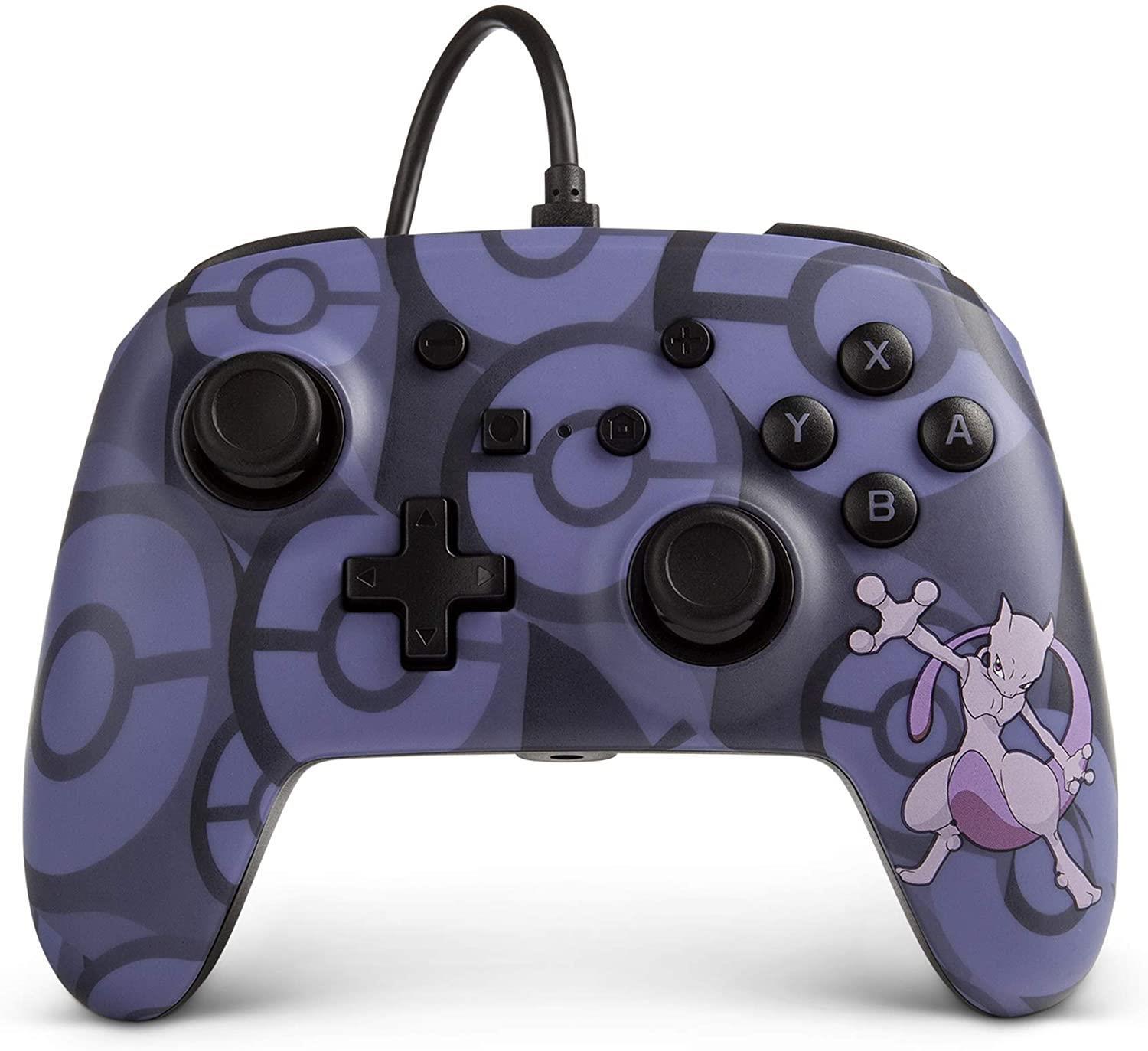 What's included:
Nintendo Switch Pokemon Wired Controller Mewtwo Pokeball Design PowerA

Power Cable

6 Months Warranty
Features:
Play your favourite Nintendo Switch games in style using this officially Licensed A Power enhanced wired controller with mewtwo design. Designed for comfort during extended gaming sessions, this wired controller features a 3.5mm audio jack, mappable advanced gaming buttons, and standard ergonomic layout. A detachable 10ft USB cable with a Velcro-strap is included for easy storage and reduced clutter when you are done playing. Getting all these features at nearly half the price of wireless controllers makes A Power wired controllers a no-brainier.
---
FAQ
Is Nintendo gaming controller worth it?
When it comes to gaming, having a high-quality controller can make a significant difference in your overall experience. A top-notch gaming controller, such as the by Nintendo, can elevate your gameplay to new heights. With its advanced features, ergonomic design, and precise controls, this controller offers enhanced responsiveness and accuracy, allowing you to execute your moves with utmost precision. Its comfortable grip ensures long gaming sessions without any discomfort, while its seamless connectivity guarantees a lag-free experience. Whether you're engaging in intense battles, exploring vast virtual worlds, or competing against friends, the ] gaming controller delivers an immersive and enjoyable gaming experience that's well worth the investment.
How do I choose the gamepad?
Choosing a gamepad can be a personal preference, but here are some factors you should consider when selecting one
Compatibility: Check if the gamepad is compatible with the gaming system or platform you'll be using it on. Some controllers only work with certain consoles, while others are designed for use with PC or mobile devices.
Design and layout: Consider the design and layout of the controller. Different controllers may have different button layouts, grip shapes, and trigger types. Some may also offer additional features such as customizable buttons, paddles, or extra triggers.
Wired or wireless gamepad: Decide whether you want a wired or wireless controller. Wireless controllers offer more freedom of movement, but may require batteries or charging, while wired controllers have a fixed connection but no battery requirements.
Durability: Look for a controller that is well-built and durable, especially if you plan to use it frequently or for extended gaming sessions.
Price: Gamepads can vary widely in price, so determine your budget and look for controllers that fit within it. Keep in mind that higher-priced controllers may offer additional features or better build quality.
Reviews: Before making a purchase, read reviews from other gamers to get a sense of the controller's performance, comfort, and overall value.

What are popular gaming controllers functions?
Analog sticks: These allow for smooth and precise control of movement and camera angles.
D-pad: The directional pad is typically used for movement in 2D games, such as side-scrollers and fighting games.
Triggers and bumpers: These buttons are used for actions like shooting or accelerating in racing games.
Vibration feedback: Vibration feedback can enhance immersion and provide tactile feedback during gameplay.
Customizable buttons: Some gamepads allow users to customize the function of certain buttons, allowing for personalized control schemes.
Wireless connectivity: Wireless gamepads offer more freedom of movement and eliminate cable clutter.
Touchpad or trackpad: Some gamepads feature touchpads or trackpads that can be used for mouse-like control, scrolling, or gesture-based actions.
Gyroscopic sensors: These sensors allow for motion control, similar to the Wii's motion controls.
LED lighting: Some gamepads feature LED lighting that can be customized for aesthetic appeal or to provide visual feedback during gameplay.
Where to buy Nintendo gaming controller uk?
Looking for a gaming controller in the UK? Look no further than Student Computers! We offer a wide range of refurbished gaming controllers at affordable prices, including popular brands like Xbox, PlayStation, and Logitech. All of our refurbished controllers have been tested and are in excellent working condition, so you can be confident in your purchase. Plus, our controllers come with a warranty for added peace of mind. Whether you're looking for a wired or wireless controller, a joystick or a gamepad, we have the perfect controller to suit your gaming needs. So why wait? Check out our selection of refurbished gaming controllers at Student Computers today!
---
Grading Explained